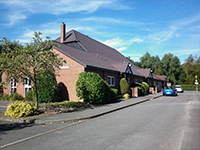 If you wish to make a simple enquiry, please click here or visit the contact page at the top.
Important Information
The booking is confirmed after receipt of a £100-00 non-refundable deposit is received.
All cheques should be made payable to O.V.H.C.(Otterbourne Village Hall Committee).
You are requested to supply a S.A.E. (Stamped Addressed Envelope), whereupon a receipt and confirmation of your booking will be provided.
All Day functions are from 08.00 until 23.59 with the Bar closing at 23.00 (with 20 minutes drinking up time) and Music to be off by 23.30.
Please note: These premises are Self Alarming – All hirers must vacate by midnight as these premises automatically alarm themselves at 0030 and are connected to the local police HQ. CCTV is also in operation.
Rules & Regulations of Hiring
Please click here to read the conditions of letting.
Booking Form
We are currently experiencing problems with our Booking & Contact forms. Please contact the village hall via email or phone:
By email:
villagehall@otterbournevillagehall.org.uk
By telephone:
01962 711725 – If leaving a telephone message please repeat your number.