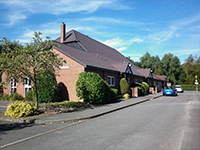 The present Complex was built in 1986 and replaced the Old Village Hall (Which was built in 1957 and extended in 1976) thereby allowing the development of the Cranbourne Drive area of the Village, originally built as two intercommunicating Halls.  In 2001 due to popular demand for club space a third Hall was added, with the aid of a Lottery grant,  two further small meeting / class rooms were added in 2006, and more land was gifted (by Penelope and Major Chamberlayne MacDonald) to give the Complex a near quarter acre garden area, which is cut to lawn and  has picnic benches in Situ.
The complex is used by a variety of clubs, catering for young  people aged two up to our Senior Citizens Tea Dances, in between are Pilates Classes, Yoga Classes, a Stroke Club, Bridge Club, Dog training classes, Lace and Bobbin Classes, a number of Art  clubs, various Dance and Tap classes, even a Model car club and race track which is erected every other Sunday Morning, which covers a floor area of some 60ft x 30ft, we also have Beading classes and of course our own Village W.I. and W.I. Craft.
This is also the home of "Otterbourne Brass" an extremely talented and very successful Brass Band, who travel the length and breadth  of the Country giving magnificent performances where ever they perform. The Band rehearse on Thursday and Sunday evenings, as well as staging concerts in the Chamberlayne Suite throughout the year culminating in our Christmas Carol Concerts.
We also have our own Drama Group, who perform a variety show during the Summer and Pantomime (not to be missed) during the middle two weeks of January, some say  our Pantomimes are quite often on a par with the Professional  Pantomimes staged in Southampton and Winchester, (we are always looking for new talent both young and old).  We rehearse on Tuesday evening's and Sunday afternoons.
Saturday's normally see the Complex booked out for Weddings and other large functions, this being a sought after Venue because of the facilities we  provide, such as a Bar, (We are a licensed premises), very unusual for a Village Hall, and our large Car parks, where up to 80 cars can be accommodated.
All monies from Hire fees and Rentals plus profits from our Variety Show , Pantomime and Christmas Brass concerts  are, and always have been, ploughed back into the upkeep and continual modernisation  and renewal program which is always on going, the complex is thoroughly cleaned on a regular basis twice a day prior to the Morning and Evening  lettings.
Most recent additions to date 2013.  Patio area alongside the Chamberlayne Suite, with coloured lighting and picnic tables in situ, a new sound system with radio mic for public use, and over the last two years all kitchens have been completely gutted and re furbished at considerable cost for the Village Hall Committee. All the Toilets have been re-tiled with a new facility added to the Ladies toilet in the Chamberlayne suite along with extra disabled and baby changing facilities.

Hallmark
We are proud to have been awarded a Hallmark. This is a nationally recognised quality mark, demonstrating that the village hall has reached an exceptionally high standard of Operation and Management.