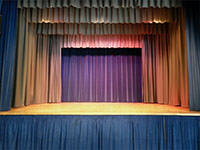 Otterbourne drama group was formed by Otterbourne Village hall Committee to raise funds for the village hall in 1981. Their first production was performed in the old village hall, which is now the road leading to the village hall as we know it today. Their first pantomime was Dick Whittington, with the cast being drawn solely from the village hall committee. After the success of the first few pantomimes the group expanded to other members of the village and surrounding areas and then progressed on to the summer variety shows. In 1986 the new village hall was built and this enabled the drama group to become somewhat more professional and for the first time they were able to "Fly" scenery. Thereby followed improvements to the sound and lighting systems and being as the Village hall is a charity all monies received from their performances were ploughed back into the village hall.
Big changes have taken place in our drama group after our chairman (and Dame) Mr John Pitman decided to stand down and sail into retirement. Having performed in Pantomime at the Village Hall (including the old village hall) since 1981. We wish John well and thank him for his commitment to the group, he will be sorely missed.
Our new chairman is Mr Steven Rickman, also of long standing, but of younger years, we wish Steven well in his new role. Luckily we also have Kay and Kevin Warne, who are taking over the production of our shows for the foreseeable future.
The group has recently seen successes year on year in the Daily Echo Curtain Call Awards receiving many nominations and winning in four categories. Best Pantomime, Best Performance in a Pantomime, Best Musical Director and Best Costumes in a Variety Performance. The group continues to go from strength to strength and are always looking for new members both young and old, rehearsals take place on Tuesday evenings and Sunday afternoons. For more information please contact the Drama Group Chairman, Steven Rickman.
Box office number – 02380 363205
Only available during Pantomime and Summer Show season.
Gallery
Curtain Call Nominations
2007
Kerry-Anne Evans and John Pitman nominated for best director of a musical.
Richard Daniels nominated and won best musical director.
Steven Rickman nominated and won best performance in a pantomime
2008
Joyce Jones and Julie Whale nominated and won best costumes in a pantomime.
2009
Cast nominated for best pantomime.
Sarah Bishop nominated for best performance in a pantomime.
2010
Two excellent shows, some say the best ever but no awards received.
2011
Again two excellent shows, with nominations from 'Curtain Call' but no awards forthcoming.
2012
Joseph Warne nominated for Best Supporting Actor in a musical.
2013
Nominated for best Pantomime (Snow White) but no award was forthcoming.
2014

Ryan Bishop nominated and won best performance in a Pantomime (Buttons in Cinderella).
Kay Warne and John Pitman nominated for best Director of a musical or opera (Stars in your Eyes).
2015
Despite our excellent Pantomime "Robinson Crusoe and the Pirates" January 2015 and our brilliant Summer Variety Show May 2015.  No awards or recommendations wee forthcoming, so it is back to the drawing board for 2016. Hopefully we will come up trumps with our latest  Pantomime production "Goldilocks and the Three Bears" which has received rave reviews, lots of compliments and full houses.