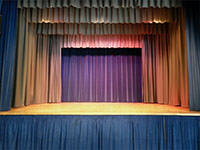 The original Drama Group was formed in 1981 to raise funds for the Village Hall and has been producing pantomimes and variety shows ever since. It was renamed The Otterbourne Theatre Company in 2019.
The first production in '81 was the pantomime "Dick Wittington", performed in the old village hall with the cast drawn solely from existing committee members. Over the next few years the group expanded to include other residents of the village and surrounding areas. Variety shows were added to the summer programme.
In 1986 the new Village Hall was built with help from the lottery fund and this enabled the group to reach higher standards of production over the following years. All improvements were funded by ticket sales and this benefited all users of the complex. The hall today has a superb sound and lighting system together with on-stage facilities such as "flying" scenery. Further general improvements to the hall are planned for 2020.
The Otterbourne Theatre Company has had great success in recent years at the Daily Echo Curtain Call Awards receiving multiple nominations and winning in four categories:
Best Pantomime
Best Musical Director
Best Performance in a Pantomime
Best Costumes in a Variety Show.
The Company continues to go from strength to strength and is always looking for new members in all age groups. Rehearsals take place on Tuesday evenings and Sunday afternoons.
For more information please contact the OTC Secretary Barbara Hancox at info@otterbournetheatre.com or visit their website by clicking here
Gallery
Curtain Call Nominations
2007
Kerry-Anne Evans and John Pitman nominated for best director of a musical.
Richard Daniels nominated and won best musical director.
Steven Rickman nominated and won best performance in a pantomime
2008
Joyce Jones and Julie Whale nominated and won best costumes in a pantomime.
2009
Cast nominated for best pantomime.
Sarah Bishop nominated for best performance in a pantomime.
2010
Two excellent shows, some say the best ever but no awards received.
2011
Again two excellent shows, with nominations from 'Curtain Call' but no awards forthcoming.
2012
Joseph Warne nominated for Best Supporting Actor in a musical.
2013
Nominated for best Pantomime (Snow White) but no award was forthcoming.
2014

Ryan Bishop nominated and won best performance in a Pantomime (Buttons in Cinderella).
Kay Warne and John Pitman nominated for best Director of a musical or opera (Stars in your Eyes).
The Daily Echo no longer organises the Curtain Call Awards but our productions continue on an upward curve!